The only dating app that sets up an entire date for you and your match
WELCOME TO WANDURE: A DATING APP REIMAGINED
We've all been there. Swiping and swiping and swiping. Collecting matches then chatting about the same thing over and over and over again. It's exhausting, it's tedious, and it so rarely results in anything real or rewarding. Oh, and did we mention all the time it takes?! So. Much. Time.
There's finally a solution to your dating woes.
Welcome to Wandure, where dating happens where it should - in real life. No virtual small talk. No pen-pals. Just dates.
Wandure is a first-of-its-kind dating app, launched in 2019 for Montreal and Ottawa. It focuses on establishing in-person interactions and real chemistry. Designed to foster meaningful relationships, Wandure brings dating back into the real world by booking surprise dates with your online matches.
Avoid endless texting doomed to the digital sphere. Instead, explore your city while you meet your match on a surprise date curated by Wandure.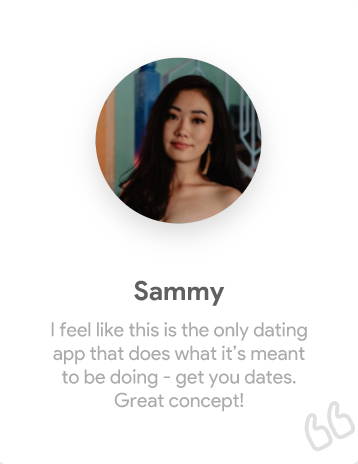 After conversations with friends (and we'll be honest, our own experiences) we saw that there was a consensus on the brutal slog of dating apps where conversations are limited, redundant, and for the most part, relegated to the virtual sphere. Penpals were the norm, actual dates not so much.We decided we didn't want to roll that way any longer. Instead, we wanted to come up with a dating/relationship app that worked differently. And so, we did.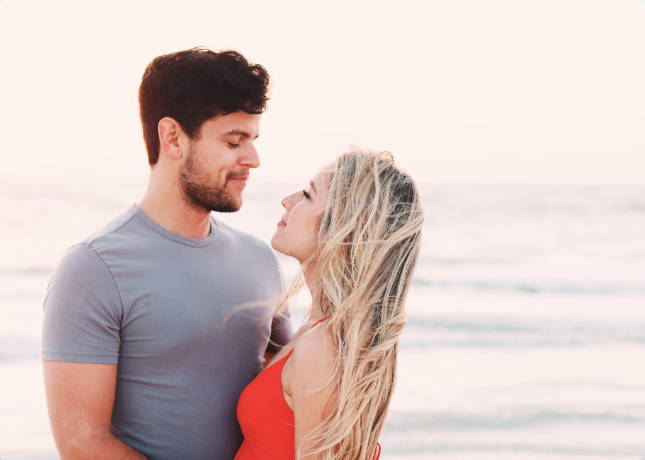 With Wandure a match = a date, so when you match with someone, it means you go on a date with them! And ... we plan the date for you and your match! Based on your shared interests, availability and budget, we plan a unique date so you don't have to worry about a thing - no choosing which restaurant to go to or which escape room to choose. No tedious endless messaging back and forth in the app or endless swiping.
So here's the gist of it:
1. Make a dazzling profile with awesome photos and witty, honest answers to great questions.
2. Slide to "Meet" or "Pass" on other dazzling profiles.
3. Find a gem, slides right to "Meet".
4. You get a match (yay)!
5. You give us your details so we can plan an epic date (availability and budget)
6. We tell you and your match when the date is scheduled for (but we don't share the date details just yet…)
7. We cook up an epic date for you and your fab match.
8. And just when you're itching to chat, 24 hours before the date you find out where you're headed and you can chat with your match.
9. You meet. Sparks Fly.
10. The end.You match. You meet. You mingle.
You get to see if there is chemistry right away on a date that has been planned just for you and your match. No endless swiping. No endless texting. No small talk.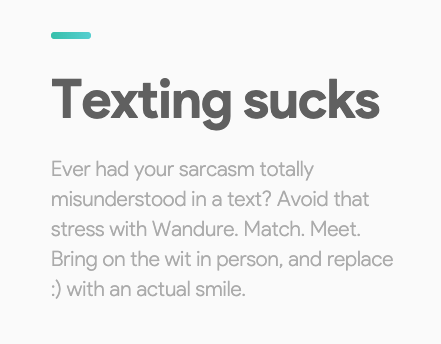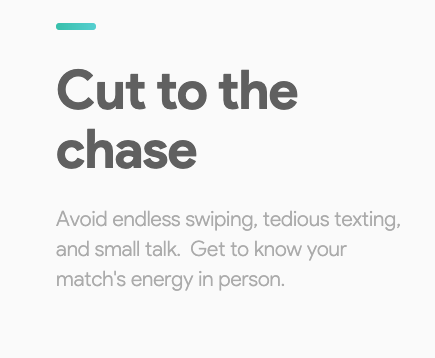 The only dating app that sets up an entire date for you and your match